Row 1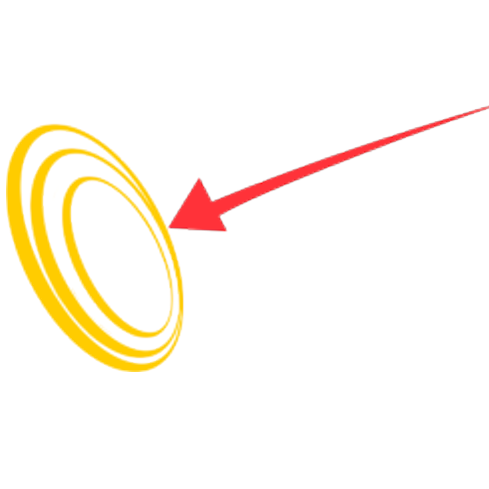 Row 1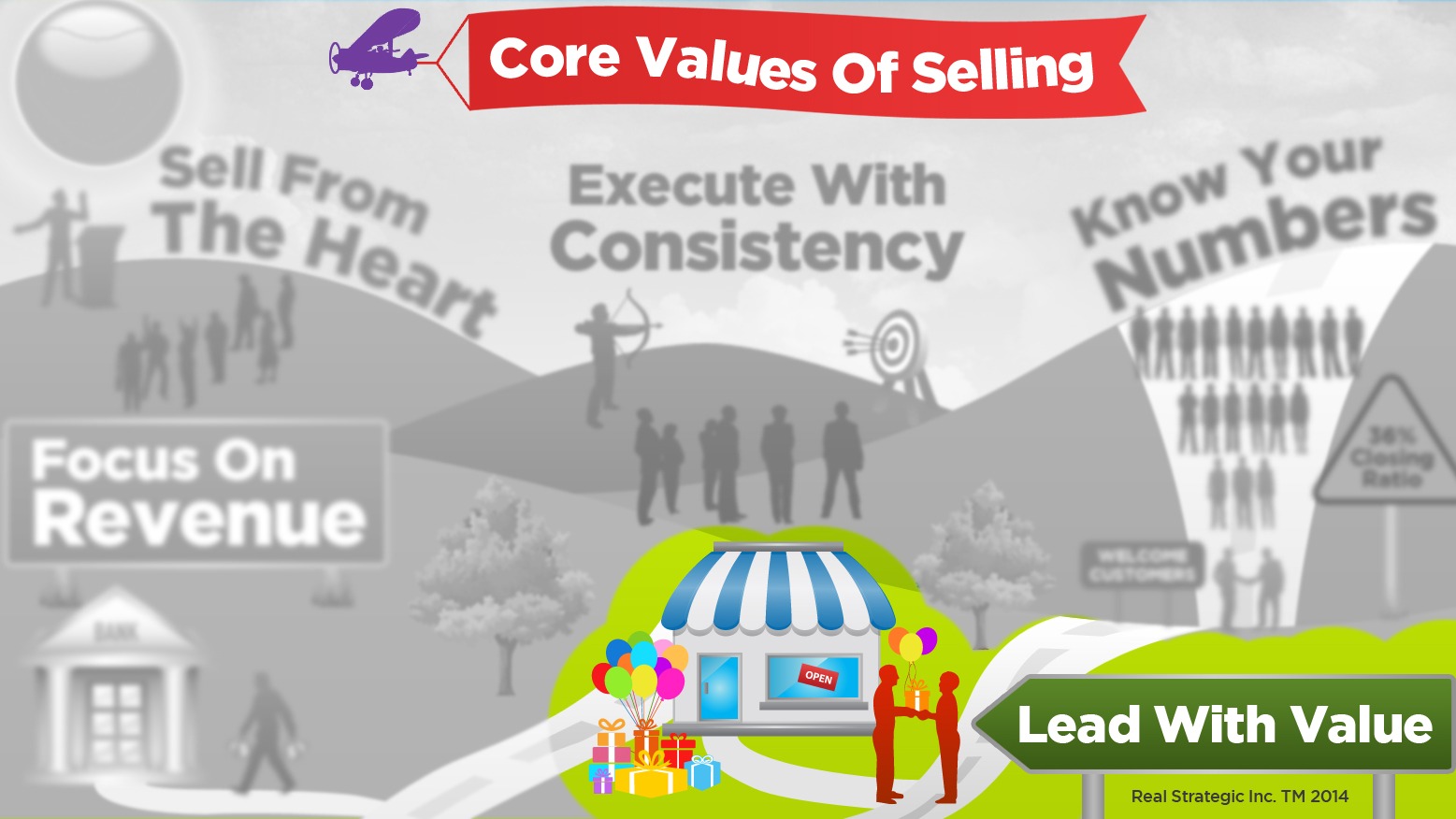 #1 Lead With Value
Our leads will turn into customers fast when they find the one thing they are looking for: Value. Because "When The Value Is Clear, Decisions Are Easy." Every successful sale is determined by the level of perceived value from the customer.
When we lead with value, we are not focused on closing a sale, but instead we focus on opening a relationship and getting crystal clear on what the customer feels is valuable first.
Leading with value also separates us from our competition, because it puts us in the position of a trusted advisor, and strategic partner who is committed to helping our prospects and clients succeed.
When we care about the value we give to each customer, it means we keep things simple. "A Confused Mind Never Buys," so we begin turning our leads into customers by addressing one important problem and offer one valuable solution.
A sale starts with you giving the prospect a valuable solution and ends with the customer saying "Thank you, for giving so much value."
Row 1
#2 Execute With Consistency
John Maxwell's law of consistency says, "Motivation helps you go, disciplined action helps you grow." Motivation and discipline are the key ingredients to consistency.
Consistency gives our businesses an unfair advantage over other competitors that struggle with sales because we are consistent in converting customers every single week.
We execute with consistency by developing a detailed plan, and schedule daily actions to make that plan succeed. We then measure and review the results and stay accountable to our results.
Consistency gives us Momentum, and momentum gives us breakthrough results to achieve anything.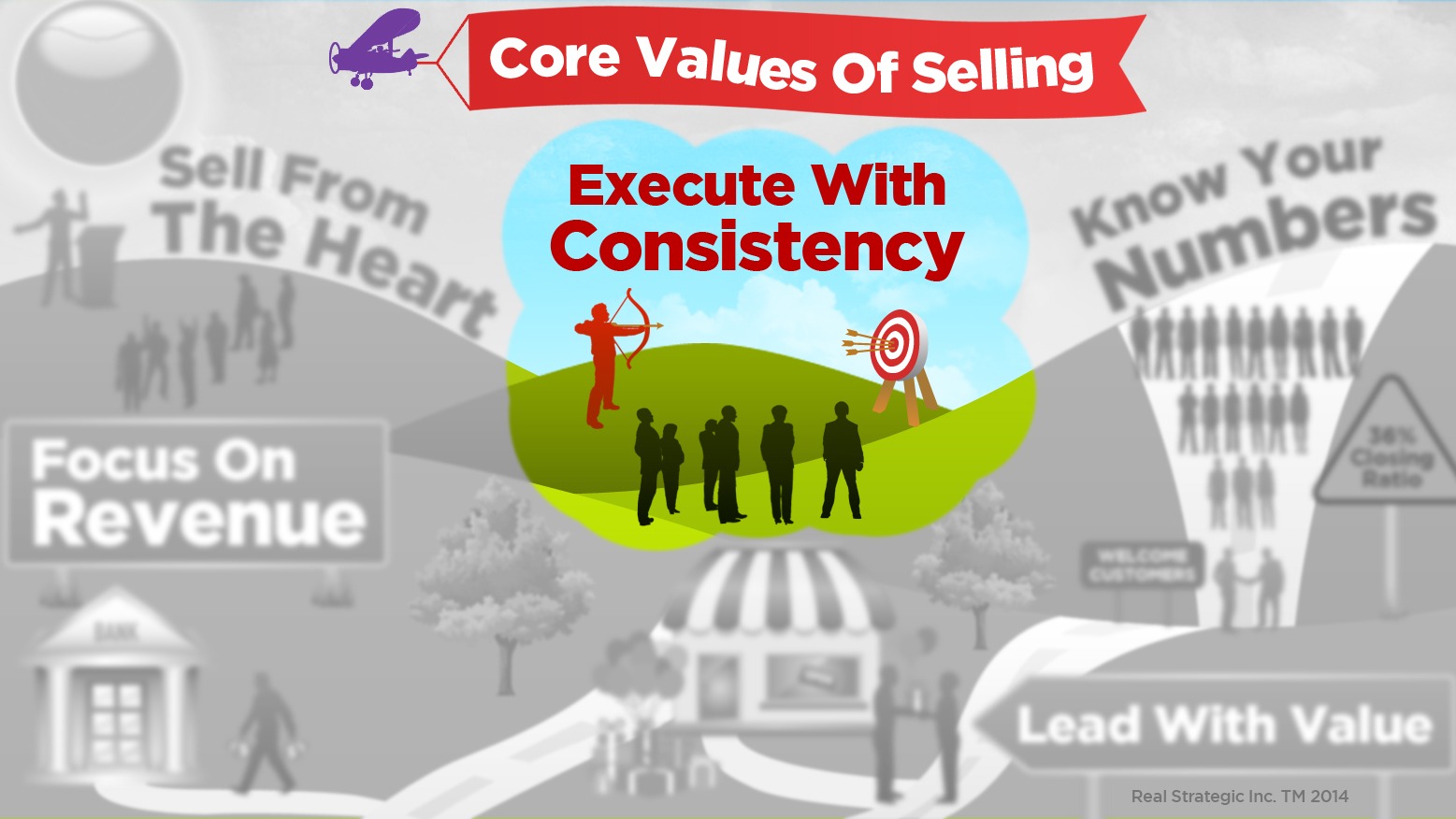 Row 1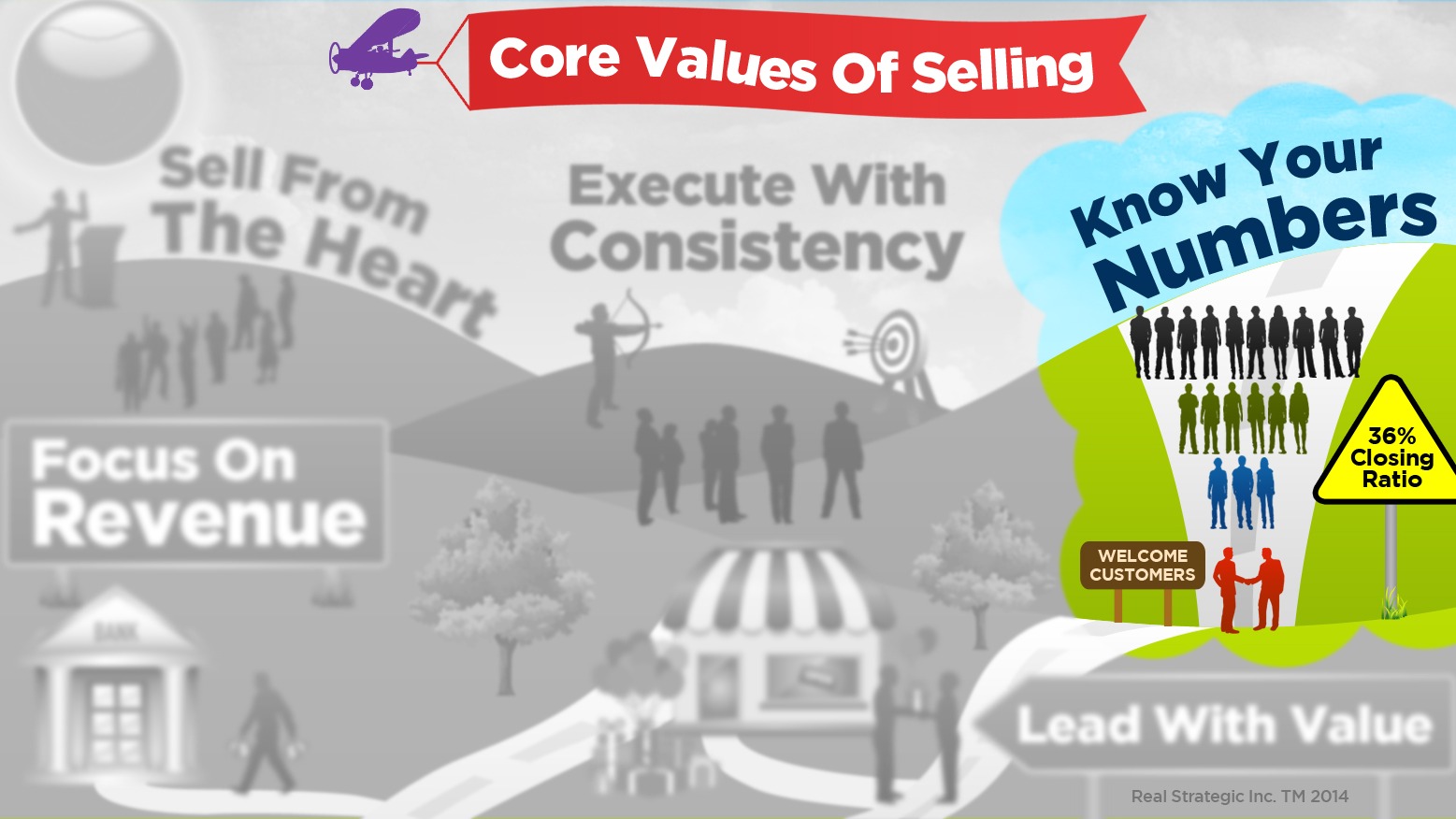 #3 Know Your Numbers
In business "The Numbers Tell You What To Do." Therefore we are students of our numbers and have clarity on our entire sales process from the first point of contact to the signing of our contract.
We understand that when someone says "No" that they are saying no to the value that we are offering and not to us. Therefore, what separates us from everyone else is that we know our numbers and that gives us the power to see our sales process objectively and allows us to drive our sales process by logic, confidence and clarity… not emotion.
We know that every "yes" is because we have developed the ability to handle objections on a long series of "No's" in our sales funnel. Each part of our funnel has been identified and fortified with value, making it easy for our target market to say yes to our next sales stage.
In the end our goal is to know our customers problems and to help make a difference in their business by providing one of our valuable solutions, therefore we always begin with the end in mind because we "Know Our Numbers"
Row 1
#4 Focus On Revenue
We understand that the success of our business depends on us, because "Nothing happens in business until a sale is made." Therefore, we are solely focused on driving revenue for our company and helping our customers drive revenue with our solutions.
We "Focus On Revenue" because we "Begin With The End In Mind" with written and clearly defined sales goals for today, each month, quarter and year.
We understand that every successful sale starts with clearly qualifying our prospects based on their need, budget, and level of interest.
When we focus on revenue, we have carefully understood the prospects needs and have proposed irresistible solutions that will close over 40% of the time.
Our goal is to exceed the expectation of our customers and to exceed the expectation of our sales goals and drive the company to success because we "Focus On Revenue".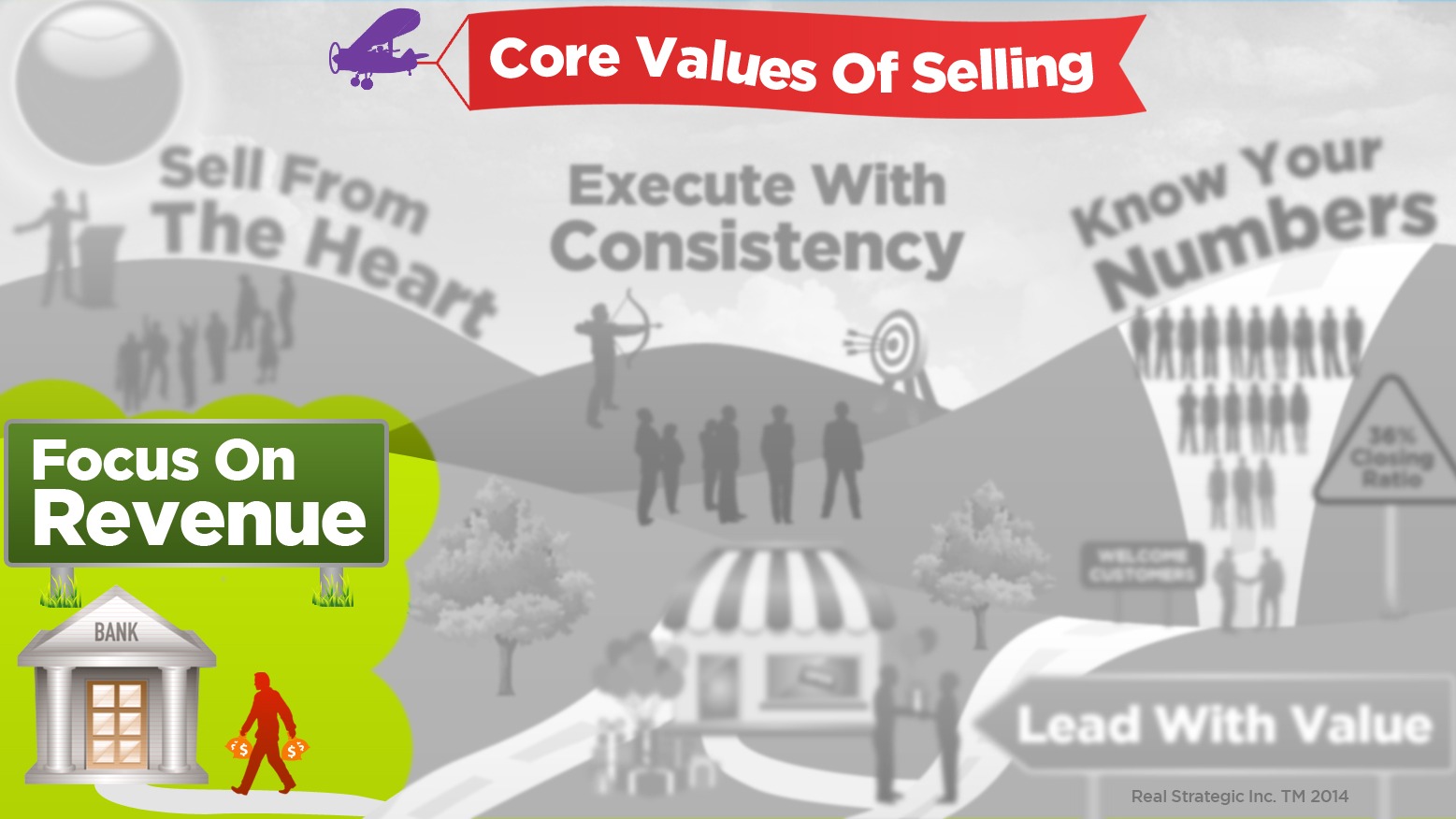 Row 1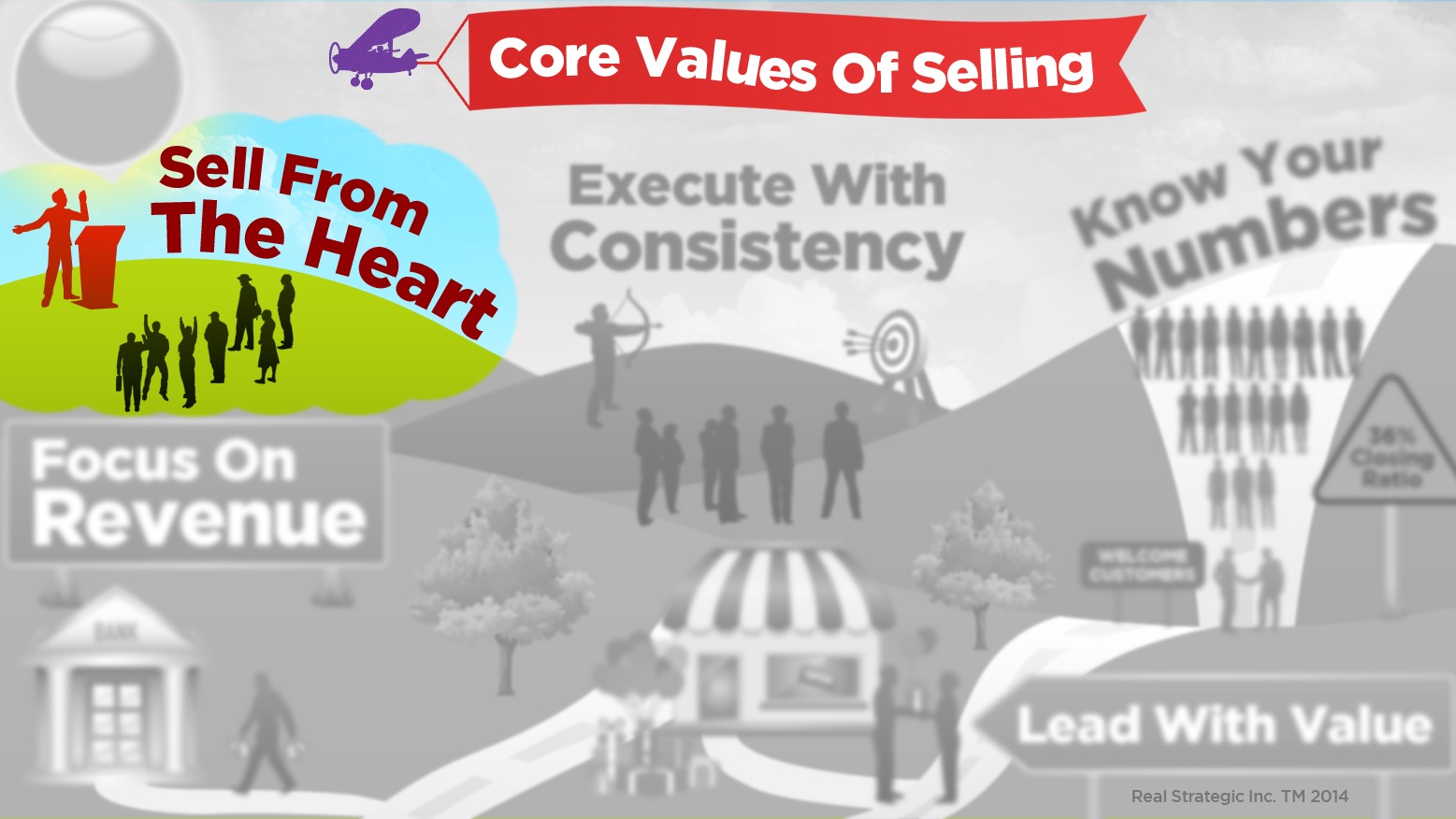 W

hen objections come and decision makers get distracted from seeing the value we are delivering, selling from the heart allows us to ask the tough questions and create a deeper relationship with our customer.
Selling From The Heart isn't a sales tactic, its a deep core conviction that we can genuinely help the business with our solution.
When we sell from the heart, we inspire confidence, create trust, and open communication with our customers.
We are not intimidated by bringing to light the real problems and going deeper with our customers to truly understand their problems and knowing the true value of our solution from their point of view.
At the end of the day, selling from the heart gives us the ability to genuinely show that we care and separates us from the competition by making sure that our solutions are creating incredible value for our customers.